UK unemployment at lowest rate in 42 years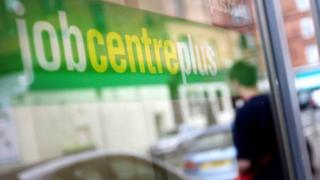 The UK unemployment rate has fallen to 4.6%, its lowest in 42 years, as inflation outstrips wage growth, official figures show.
The number of people unemployed fell by 53,000 to 1.54 million in the three months to March, said the Office for National Statistics (ONS).
Average weekly earnings excluding bonuses increased by 2.1%.
On Tuesday, figures showed inflation hit 2.7% in April, up from 2.3%, its highest since September 2013.
The jobless rate has not been lower since the June to August period of 1975.
The employment rate, the proportion of 16 to 64 year olds in work, was 74.8%, the highest since records began in 1971.
Between January and March, the number of 16 to 64 year old women in jobs was 70.2%, also the highest rate since records began.
Meanwhile 79.5% of 16 to 64 year old men were in work, the highest since 1991.
The ONS attributed the rise in the rate of women's employment, in part, to changes to the State Pension age for women, which has meant fewer women retiring between 60 and 65.