Harvey Weinstein scandal: More Hollywood figures speak out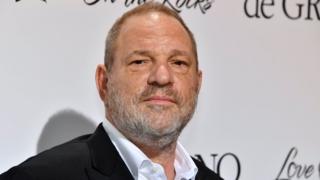 More Hollywood figures have spoken out against Harvey Weinstein in light of the recent allegations against him.
Former DreamWorks film studio chairman Jeffrey Katzenberg, writer Scott Rosenberg and actress Lauren Holly have all shared their stories.
Weinstein has been accused of rape, sexual assault and harassment, but has "unequivocally denied" any allegations of non-consensual relationships.
Katzenberg, who has worked with Weinstein, called him "a monster".
The executive, who has been chairman of Walt Disney Studios and DreamWorks, told a Wall Street Journal conference: "Make no mistake about it: he is a monster."
He said Weinstein had been protected by other men around him, who he described as "a pack of wolves".
He told delegates that abuse of power had gone on for too long in Hollywood, and the current scandal signals a change in direction. "You are gonna see in the coming weeks and months real action," he said. "We cannot go on this way."
Katzenberg said he had not heard about Weinstein's behaviour before the New York Times first reported the allegations earlier this month – but he acknowledged that he may not have made himself available to hear from women.
Screenwriter Scott Rosenberg also got involved by writing a Facebook post about his early days at Miramax Films.
He wrote the movies Beautiful Girls and Things To Do In Denver When You're Dead at the time Weinstein's profile was rising in the film industry.
In his post, he said that while he never heard any rape allegations, he was aware of Weinstein's "dreadful" behaviour – and "everybody" else knew too.
'I kept my mouth shut'
"I was there. And I saw you. And I talked about it with you," he wrote. "You, the big producers; you, the big directors; you, the big agents; you, the big financiers.
"And you, the big rival studio chiefs; you, the big actors; you, the big actresses; you, the big models. You, the big journalists; you, the big screenwriters; you, the big rock stars; you, the big restaurateurs; you, the big politicians."
He said others chose to ignore what was going on because they were enjoying themselves and because women were told it would ruin their careers if they said anything. At the end of the piece, he apologised for not doing anything.
"I reaped the rewards and I kept my mouth shut," he said. "And for that, once again, I am sorry."
Beautiful Girls actress Lauren Holly has also come forward, sharing her story of harassment, describing an encounter she had with Weinstein in a hotel room.
The pair arranged a meeting in a hotel, which she didn't find "abnormal at all" because she had routinely met producers, writers and directors in hotel suites.
She described the early stages of the meeting as normal, but said things turned sour when he walked into the hotel suite "wearing a hotel bathrobe".
'I pushed him and ran'
"He said, 'OK, let's get to it, this is what we've got going on at my company, these are the scripts we have in the pipeline, this is what I think might be right for you,' and he gestured for me to follow him."
Holly recounted that she followed him into the bedroom part of the suite as he continued talking. Weinstein then showered and, when he emerged, was naked and started to approach her.
She started to run away but Holly said Weinstein began to threaten her, saying she needed to "keep him as [her] ally" and that it would be a "bad decision" if she left the room.
At that point, Holly said, she "pushed him and ran".
---
Follow us on Facebook, on Twitter @BBCNewsEnts, or on Instagram at bbcnewsents. If you have a story suggestion email entertainment.news@bbc.co.uk.