Final Theresa May v Jeremy Corbyn clash before summer break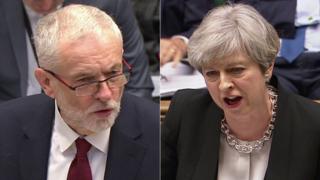 Theresa May and Jeremy Corbyn are facing their final Prime Minister's Questions clash before the summer break.
Mrs May is seeking to restore order to her party following a series of leaks and negative briefings.
She has warned ministers and MPs that any "backbiting" between party figures could let Mr Corbyn into Downing Street.
Parliament goes into recess on Thursday and returns on 5 September.
Mrs May has been under pressure since last month's general election where the Tories lost their Commons majority.
But she has since secured a deal with the Democratic Unionist Party to keep her party in power, enabling the Queen's Speech to clear the Commons.
BBC assistant political editor Norman Smith said there was now "something of a backlash" from MPs towards the "big beasts" thought to be manoeuvring themselves behind the scenes to replace Mrs May.
"I sense there's a real pushback now to keep her in place at least for the short to medium term," he added.
A senior backbencher, 1922 Committee vice-chairman Charles Walker, said Mrs May would have MPs' backing if she sacked plotting ministers.
And Defence Secretary Sir Michael Fallon called for military discipline from the cabinet ranks to confront the "dangerous enemy" of Mr Corbyn.
PMQs takes place at 12:00 BST and both leaders will be hoping for a good performance to send their MPs off into the break with a spring in their step.