Tom Marino: Controversial Trump drug czar pick withdraws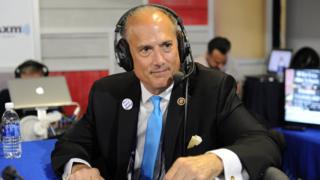 US President Donald Trump says his drug czar nominee has withdrawn, after he reportedly helped neuter government attempts to tackle the opioid crisis.
Pennsylvania congressman Tom Marino pushed a bill that reportedly stripped a federal agency of the ability to freeze suspicious painkiller shipments.
Opioid addiction has been described as America's biggest public health crisis since HIV/Aids spread in the 1980s.
Experts say the painkillers could kill 500,000 Americans in the next decade.
Mr Trump tweeted on Tuesday morning: "Rep Tom Marino has informed me that he is withdrawing his name from consideration as drug czar.
"Tom is a fine man and a great Congressman!"
The nominee's exit came a day after Mr Trump was pressed about allegations surrounding Mr Marino, as detailed in an expose by the Washington Post and CBS News' 60 Minutes programme.
Department of Justice Deputy Attorney General Rod Rosenstein said on Tuesday he "was very concerned" about the 2016 law co-sponsored by the Pennsylvania congressman.
The Ensuring Patient Access and Effective Drug Enforcement Act reportedly neutered federal efforts to stop opioid manufacturers flooding the market with the addictive painkillers.
Mr Marino and fellow Republican lawmaker, Marsha Blackburn of Tennessee, also reportedly helped force out a Drug Enforcement Administration (DEA) official who was taking on the drug firms.
Both Mr Marino and Ms Blackburn's home states have been ravaged by deadly overdoses from the opioid epidemic.
Mr Rosenstein, whose department oversees the DEA, was asked on Tuesday whether the legislation should be repealed.
"We're going to review it," he said. "I'm not prepared to answer that question right now but we are going to look into those issues."
Senate Democratic leader Charles Schumer said nominating Mr Marino to lead the Office of National Drug Control Policy was "like putting the wolf in charge of the henhouse".
Ms Blackburn reportedly received $120,000 (£90,000) in campaign contributions from pharmaceutical companies.
She is now facing the political fallout in her campaign for a Senate seat in Tennessee.
Mr Trump said on Monday he would formally declare a national opioid emergency next week, as he pledged to do more than two months ago.
---
More on the US opioid crisis