US 'may split families that cross border'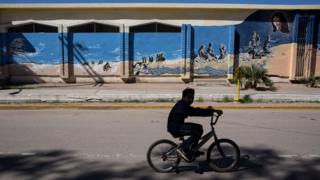 The US is thinking about separating children from their parents if caught illegally crossing the Mexico border.
Homeland Security Secretary John Kelly told CNN the move would be an attempt at stopping families from making the perilous journey from Central America.
Tens of thousands of parents and children, many who are fleeing violence in Honduras and El Salvador, have been detained coming across the border.
It can take years for their fate to be decided by the courts.
Media reports on Friday suggested the new policy would mean parents being kept in custody while they go through the legal or deportation process.
But their children would be looked after by the Department of Health and Human Services until they can be taken into the care of an American relative or a state-vetted guardian.
When asked about these media reports on Monday, Mr Kelly said: "Yes, I am considering – in order to deter more movement along this terribly dangerous network – I am considering exactly that.
"They will be well cared for as we deal with their parents."
He would do "almost anything" to deter people from Central America getting on this "very, very dangerous network" and going through Mexico, he said.